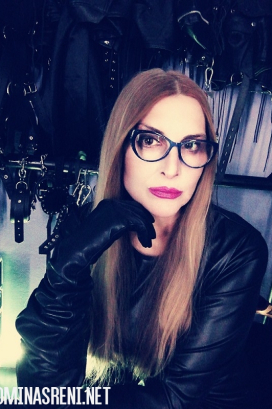 Dominatrix Milano from Milano, Italy
Milano, Italy
Dominatrix Milano Mistress - " Domina Sreni Elegant Italian Dominant Lady sensual but strict with an authentic Femdom experience motivated by a demanding passionate nature. True educator to those who want to be driven under Her control in the exploration of their hidden desires their slavish exciting fantasies to be accomplished in very equipped environment in Milan Town. If you have kink tendencies and wish to serve live and being taking over by a Dominant Lady in a Femdom and Fetish journey just contact Her. Visit her website to have more informations apply to serve and contact respectfully. Be ready for a truly different experience." SPECIALITIES: Any kind of Bondage (rope,leather,rubber,metal,suspensions,caging,ect) Breath Control,Breath Play,Strict Latex,Mummification,Aromas,Orgasmic machines, Cum Control,Forced Electro Orgasm,Electro Devices,Crossdressing,GoldenShw,Detention,Discipline and Classic Impact Femdom humiliation slave practises. TABUS : Scat,adult babies,enemas,vanilla,cuckhold.
Reviews for Dominatrix Milano
There is no reviews for Dominatrix Milano yet. Leave your review and be the first!
Services by Dominatrix Milano
There is no services by Dominatrix Milano. Sorry, Dominatrix just hasn't filled this yet.
This page is devoted to Dominatrix Milano Milano, Italy . Here you will find common information about Pro Dominatrix, reviews and reports from slaves, submissives and other clients.
Also you can watch photos with Dominatrix Milano
If you want to book a session with Dominatrix Milano just go to Mistress website (link above) and check if she's available at the moment