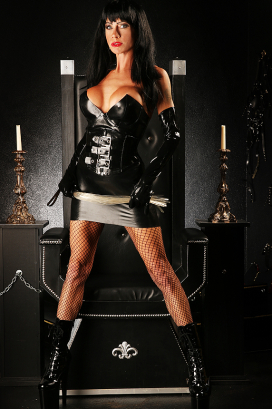 Isabelle Pia Gassen from
I am a experienced Dominatrix wich educates you with consistency and passion! Slaves, fetish lovers, sissies, beginners and gourmets are used by me, sometimes playfull, sometimes strict and passionate if you are worth it. With a calm smile i recommend your place! You must serve me with respect as i do not appreciate repeating until you have proven yourself.to be a resilient slave. Fetishists are rendered numb by there corresponding thirst for material. When the Mistress introduces herself to them, the c*k get hard and their brain stops! im based in Tenerife in the Canarian Islands but im traveling regulary too switzerland. You ll find my tours on my website.
Reviews for Isabelle Pia Gassen
There is no reviews for Isabelle Pia Gassen yet. Leave your review and be the first!
Services by Isabelle Pia Gassen
There is no services by Isabelle Pia Gassen. Sorry, Dominatrix just hasn't filled this yet.
This page is devoted to Isabelle Pia Gassen . Here you will find common information about Pro Dominatrix, reviews and reports from slaves, submissives and other clients.
Also you can watch photos with Isabelle Pia Gassen
If you want to book a session with Isabelle Pia Gassen just go to Mistress website (link above) and check if she's available at the moment