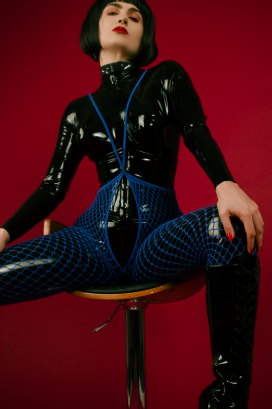 Mistrix Violeta Félix from New York City, USA
New York City, USA
You seek a Domina with an open mind and soul. She leaves you hanging on Her words, playing with your mind. Your heart races as you wonder what She is going to do next, as you desperately yearn more for Her touch with every passing second. Nothing else exists or matters. You are now just a toy in Her shadowplay. With Me, I am your eyes and the mirror. I will bend your mind, and your body will follow. With 3 years of Pro-Domme experience, I will use you with great skill. I seek a subject, not an object: a loyal devotee who is ready to open their world, who is symbiotic and participant. If that is you, I allow you to offer yourself: your trust, your vulnerability, and your intimacy. Lose yourself in My eyes, and sink deeper under My spell.
Reviews for Mistrix Violeta Félix
There is no reviews for Mistrix Violeta Félix yet. Leave your review and be the first!
Services by Mistrix Violeta Félix
There is no services by Mistrix Violeta Félix. Sorry, Dominatrix just hasn't filled this yet.
This page is devoted to Mistrix Violeta Félix New York City, USA . Here you will find common information about Pro Dominatrix, reviews and reports from slaves, submissives and other clients.
Also you can watch photos with Mistrix Violeta Félix
If you want to book a session with Mistrix Violeta Félix just go to Mistress website (link above) and check if she's available at the moment