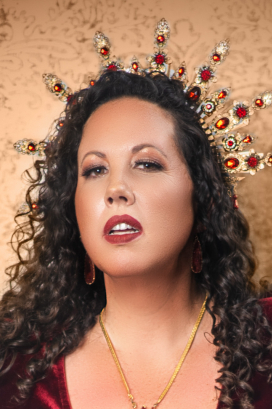 Priestess Ava from San Francisco, USA
San Francisco, USA
Bow down and confess your kinks, sub. This High Priestess of Kink will provide a safe space for you to explore your wildest fantasies, and embody your deepest submission. Let's indulge in an array of sensation and impact play, or explore a specific roleplay or fetish. Whether it's pain, humiliation, degradation, or pure titillation you crave–I will infiltrate your psyche and own your body with my authentically nurturing, supremely creative, and selectively sadistic demeanor. While I may sometimes flog, spank, humiliate or otherwise torment you for your pleasure and my entertainment, you'll notice that beating you into submission isn't the key to our dynamic. It is the precision of my words, the pace of my breath, and the fluidity of my divine improvisation that brings you to your knees. I take great pride in being able to effortlessly embody a range of feminine archetypes, both kind and cruel. My favorite power dynamics are: Priestess/devotee, Handler/pet, Kinky Life Coach/obedient client, Succubus Witch/mindfucked simp, Teacher/student My favorite activities are: spiritual feminization and Priestess training for sissies, domestic & financial service, Goddess worship, body worship, hair worship, foot worship, begging, "forced" or erotically encouraged bi, cuckold, SPH, anti-systemic racism race play, hypnosis & guided meditation, magical & ruby rituals, intox & sorcery fantasy, GS, wax, exquisite tease and denial torture, CBT, human furniture, smoking fetish (not tobacco), absurd & improvisational fantasy role play, multi-person scenes with complex hierarchical dynamics, impact play and moderate degradation or humiliation in service to healing and growth. I reside in the San Francisco Bay Area, with well-equipped dungeon and temple locations in Oakland, San Francisco & San Jose. I often travel to San Diego, CA, Denver, CO, and Nashville, TN.
Reviews for Priestess Ava
There is no reviews for Priestess Ava yet. Leave your review and be the first!
Services by Priestess Ava
There is no services by Priestess Ava. Sorry, Dominatrix just hasn't filled this yet.
This page is devoted to Priestess Ava San Francisco, USA . Here you will find common information about Pro Dominatrix, reviews and reports from slaves, submissives and other clients.
Also you can watch photos with Priestess Ava
If you want to book a session with Priestess Ava just go to Mistress website (link above) and check if she's available at the moment